| | |
| --- | --- |
| Yard Number | H111 |
| Owner | ASCO |
| Delivery Date | 2021 |
| | |
| --- | --- |
| Crew | 15 person |
| Total Capacity | 15 person |
| | |
| --- | --- |
| Main Engines | 2 x 1200 kW |
| Bow Thruster | 230 kW |
| Cargo Pumps | 6 x 200 m3/h |
| Cargo Crane | 5 T |
| | |
| --- | --- |
| Length O.A | 141.00 m |
| Beam MLD | 16.90 m |
| Depth MLD | 6.00 m |
| Draught | 4.54 m |
| Vessel Speed | 10 knot |
Basic Functions:  Carrying of crude oil and petroleum products with density up to 1.015 t/m3, including gasoline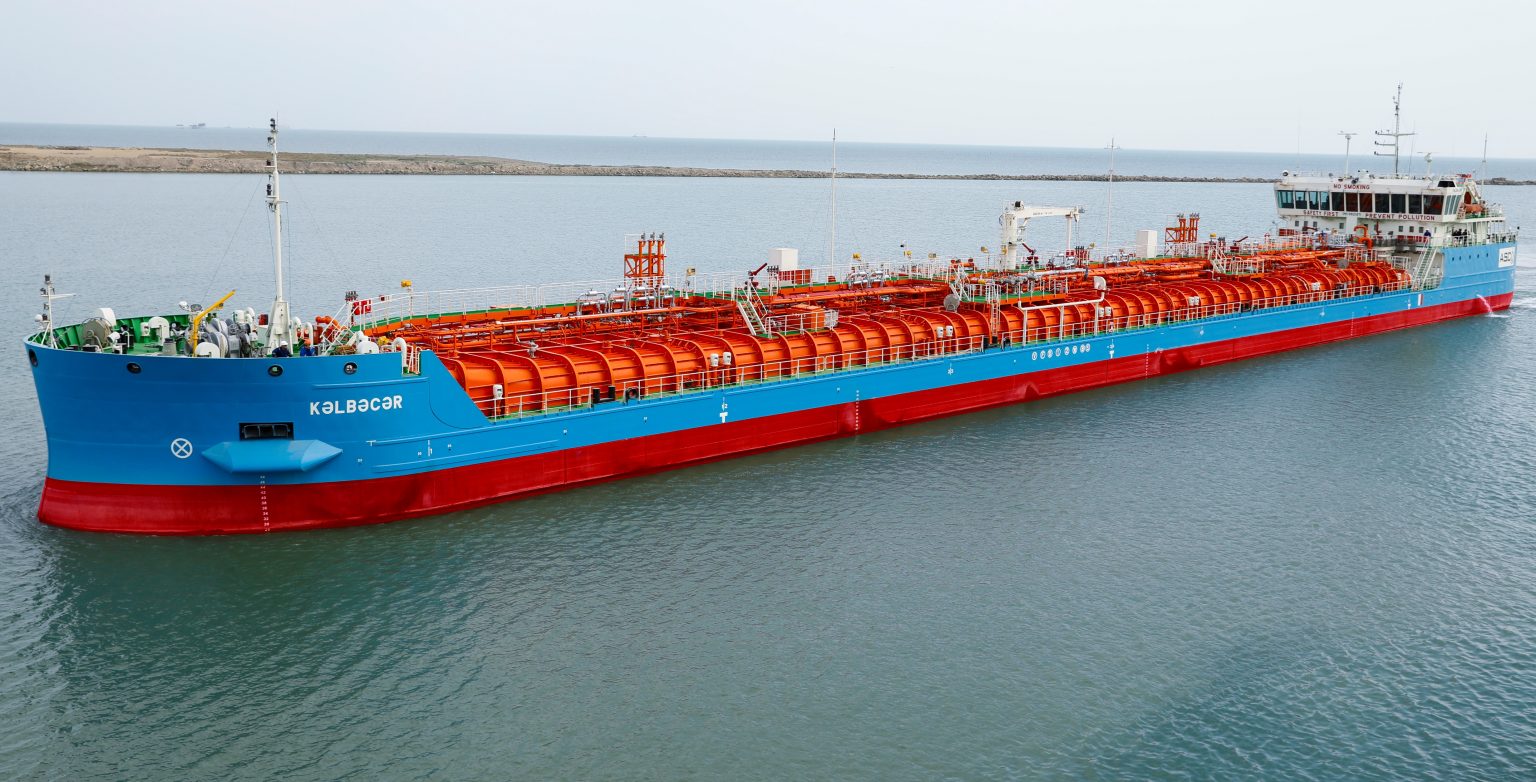 Self-propelled tanker with 6 cargo tanks for carrying of crude oil and petroleum products with density up to 1.015 t/m3, including gasoline, without restrictions for flash-point, ensuring the temperature of carrying cargo up to 50º C. Providing simultaneous carriage of 2 (two) sorts of cargo.
Steel, single-deck vessel, with two full-rotated rudder propellers, with forecastle and poop, with aft engine room and deckhouses, with six cargo tanks and two slop tanks, with a double bottom, double sides, and trunk deck in cargo tanks area, with cylindrical bow and transom stern, with bow thruster (BT).
The ship has been designed and constructed on the Russian Maritime Register of Shipping class:
The wheel-house is designed with the all-around view and minimum shadow regions according to UI SC 181
The vessel hull is designed on the Ice1 class, which assumes occasional all year round in the non-freezing seas, in fine-broken rarefied ice of the non-Arctic seas.
Vessels motion and maneuverability are provided by two full revolving rudder propellers with fixed-pitch propellers in nozzles. To improve the controllability at low speeds, at the pass of narrow waters and moorings there is a bow thruster of "propeller in a pipe" with a fixed-pitch propeller (FPP).
The vessel is intended for carrying crude oil and petroleum products, including benzene without restrictions for flash-point, ensuring temperature of carrying cargo up to 50ºС.
The system can operate during load or discharge with 2 types of cargo simultaneously.
Six cargo tanks are located lengthwise of vessel, each of them is served by an independent deepwell cargo pump.
Each group of tanks has a manifold providing load and discharge of cargo on both sides.
Slop tanks are served by their independent deepwell pump and can be connected to the aft group of tanks.
The cargo pumps and the pump for the slop tanks have the electric drive equipped with frequency converters, ensuring a smooth speed varying of the pump, that allows to reduce capacity and to remove remaining cargo from the tanks.
Valves of the cargo system ensuring cargo handling have a remote hydraulic drive. Remote operation is from a cargo-ballast operations control console located in the wheelhouse. Valves with remote control have also local manual operation.
To prevent tank overfilling during loading ship is provided with a two-level and independent overflow control system feeding audible and visual signals.
Cargo and slop tanks are equipped with stationary tank cleaning machines of single nozzle type driven by liquid, sufficient to give full coverage of bottom, sides, and under-deck structure, and tank cleaning hatches for portable tank cleaning machines.
The ship is also provided with the vapor emission control system (VECS) to collect and discharge vapors of compatible cargoes from cargo and slop tanks to shore through a separate manifold with international flanges.
The cargo and slop tanks as well as double hull spaces are ventilated by the water-driven portable fan.
The special sprinkling of a cargo tank system is used to reduce the evaporations of transported petroleum and environmental contamination while operation at high air temperatures.
Launching of "Kalbajar" Tanker