| | |
| --- | --- |
| Yard Number | H109 |
| Owner | ASCO |
| Delivery Date | 2022 |
| | |
| --- | --- |
| Crew | 30 person |
| Passengers | 100 person |
| Total capacity | 130 person |
| | |
| --- | --- |
| Main Engines | 2x2600 kW |
| Helideck | 18x18.2 m |
| Fin Stabilizer | 7.48 m2 |
| Cargo Lift | 24.73 x 8.6 m |
| | |
| --- | --- |
| Length O.A | 154.50 m |
| Beam MLD | 17.70 m |
| Depth MLD | 7.50 m |
| Draught | 4.50 m |
| Vessel Speed | 14 knot |
Basic Functions:    Transportation of 56 railway wagons with 1520 mm track breadth and motor trucks (50 car trains)
New Ferry vessel is assigned for transportation of 56 railway wagons with 1520 mm track breadth and motor trucks (50 car trains), including ones with dangerous goods and passengers. Ferryboat's construction foresees aft cargo handling scheme and is equipped with side ramp for loading/unloading vehicles from/to usual berth.
The place for landing of helicopter is equipped according to ICAO requirements. Overall dimensions of helideck D=18×18.2 m. Final approach and take-off area, touch down and lifting area are equal to overall dimensions D=16 m. Max. weight of landing helicopter 11 t. Helideck is protected by the foam fire extinguishing system with low factor foam. Helideck monitoring system includes following equipment: visibility distance sensor; cloud border height sensor; air temperature, humidity, pressure sensor; wind speed and direction sensor; wind cone
Retractable Fin Stabilizer for stabilization underway, fin area up to 7.48  are installed in the area of bulge Fr.92-103 StB and PS.
The cargo lift platform has following dimensions: total length 24.73 m., total breadth 8.6 m. Safe working load of the cargo lift is 2 rail trucks by 94 tones total 188 tones, load per axle 12 tones/ 4 wheels, 10 tones/ 2 wheels. Hoisting /lowering operations are performed by means of four (4) jigger winches via pre-stretched wire ropes. Hydraulic operated locking devices (total 4 sets) for cargo loading/unloading on lift platform are provided at longitudinal ends of lift platform. Four (4) guides pillars and guide pieces are installed for lifting/lowering operation at harbor condition. Four (4) sets of vehicle stopper device are installed on deck No.1 and 3 and operated by hydraulic cylinder. Theoretical maneuvering time of lifting or lowering with loaded vehicles on lift platform is about 3 min. The cargo lift system is equipped with water proof cover. Safe working load of the lift cover is 2 rail trucks by 94 tones total 188 tones, load per axle 12 tones/ 4 wheels, 10 tones/ 2 wheels.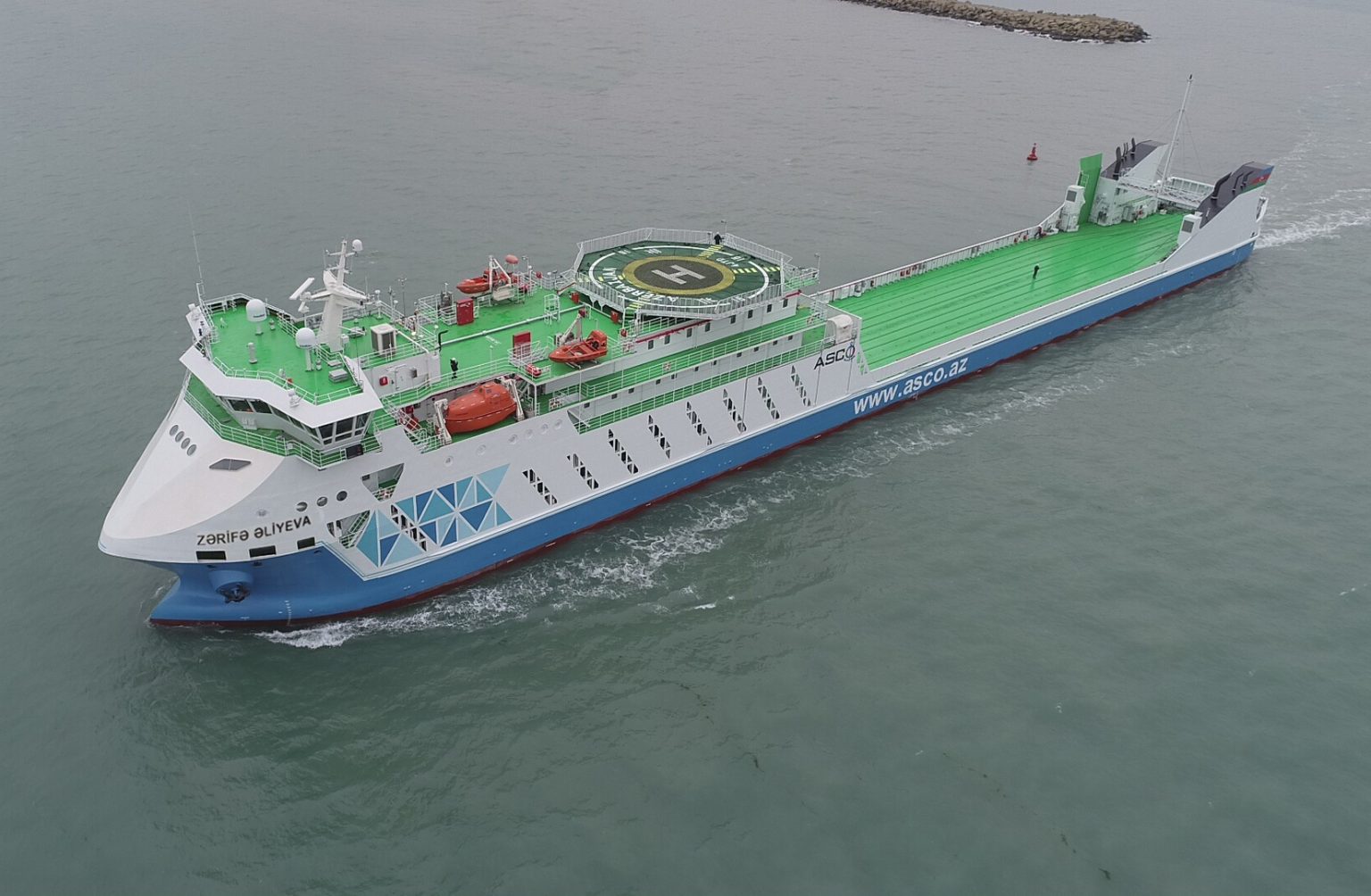 Construction of "Zarifa Aliyeva" vessel
Поделитесь этой страницей